PostKnife
When you're a startup,
brand identity matters
. Just by being visually compelling, a brand can attract attention and start conversations with its audience. For PostKnife, a subscription service delivering freshly-sharpened knives to professional kitchens, the brand's core benefits are woven into it's identity.
The brand is built on two foundational stories:
Sharpness
Freshly-sharpened knives are safer for workers and faster for the bottom line, but it's also an experience. Chefs just love the
feel of working with a finely-honed instrument, and this brand
feels
sharp. It comes through in the crisp shapes of the iconography and typography. It's in details like the sliced point in "Knife". The entire system is grounded in the biggest benefit PostKnife brings: a ridiculous edge. 
Easy
Considering the stressful, fast-paced nature of commercial kitchens, the word "easy" kept coming up. It needs to be easy to see. Easy to understand. Easy to use. With a bold, dynamic brand identity system, PostKnife demands attention at every touchpoint, be it mobile storefront, delivery system, or the knifes themselves. The brand becomes an experience that workers look forward to.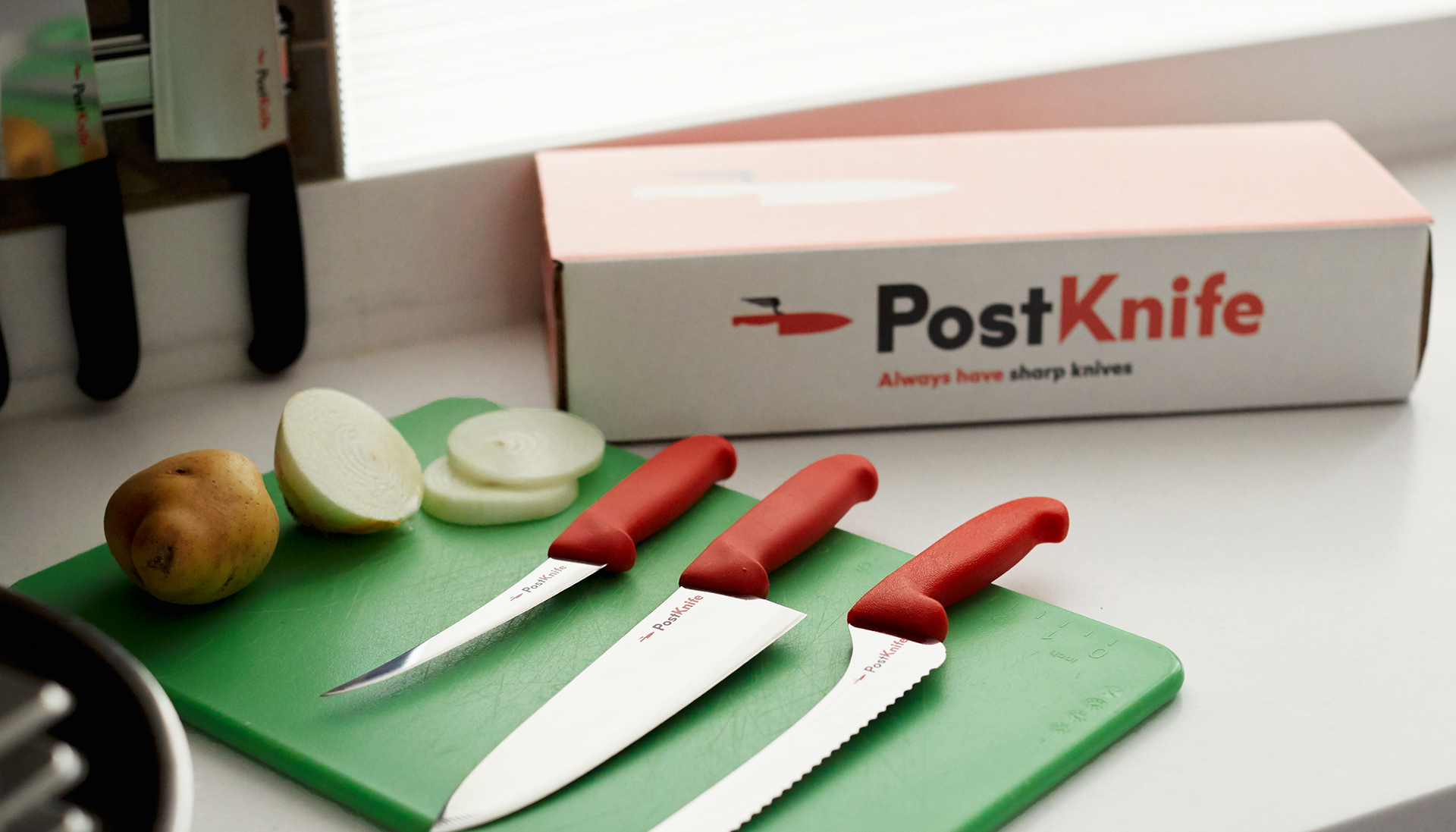 Brand Identity System

PostKnife tells its stories with a bold, graphic identity system made from a few well-crafted parts. The high contrast of red, black and white attract the eye, focusing attention in key places. Messages are short and surrounded by open space, which makes them feel important and confident. The result is highly memorable and turns every activation into a billboard for the brand.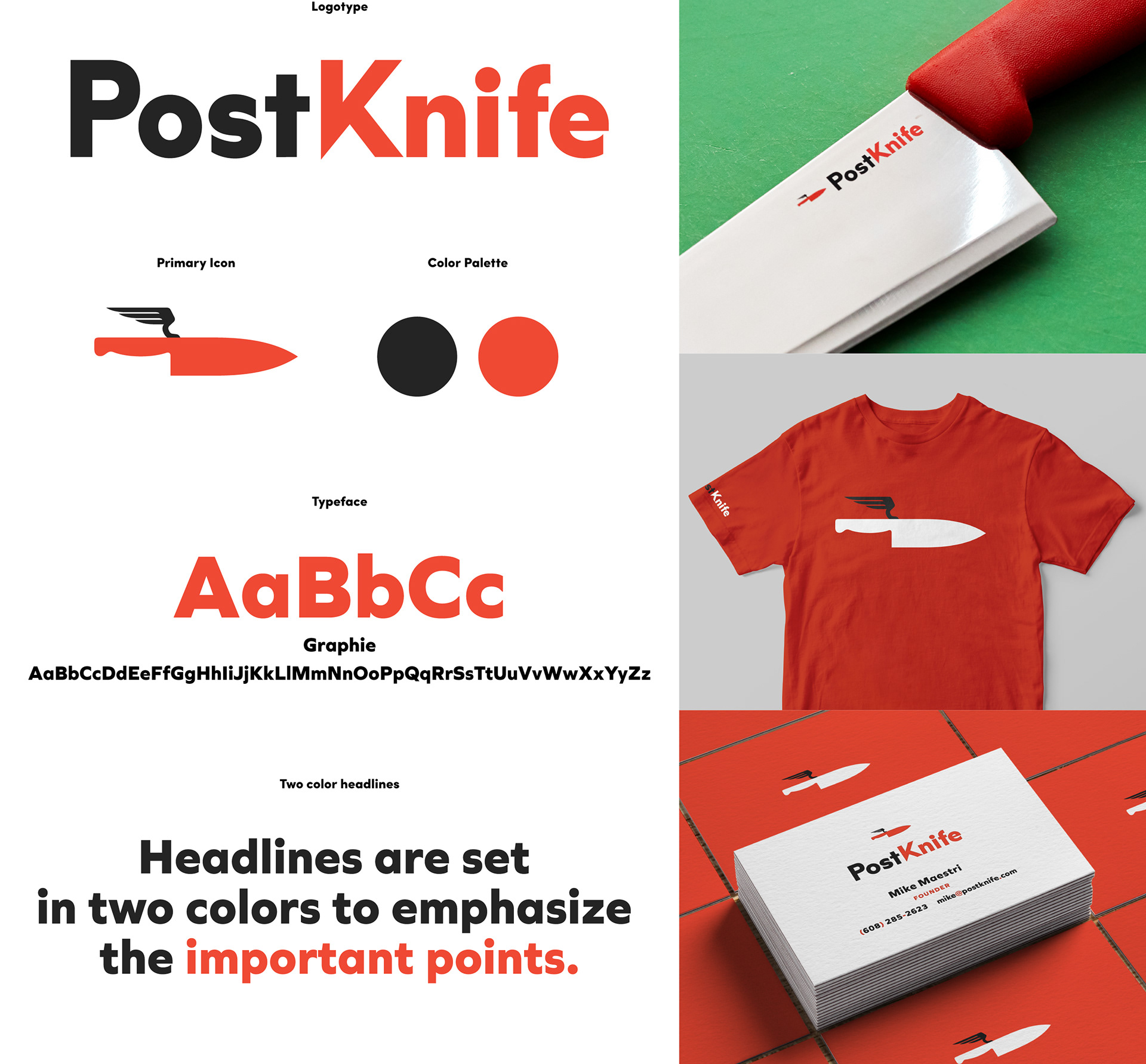 Delivery Experience

"Knife Day" is a special event. Every two weeks freshly-sharpened knives arrive, and workers send their used PostKnife knives back for resharpening. Shipments alternate black and red handles, making it easy to see which is dull or sharp. The shipping box is an unboxing experience, revealing brand stories and instructional graphics as it opens.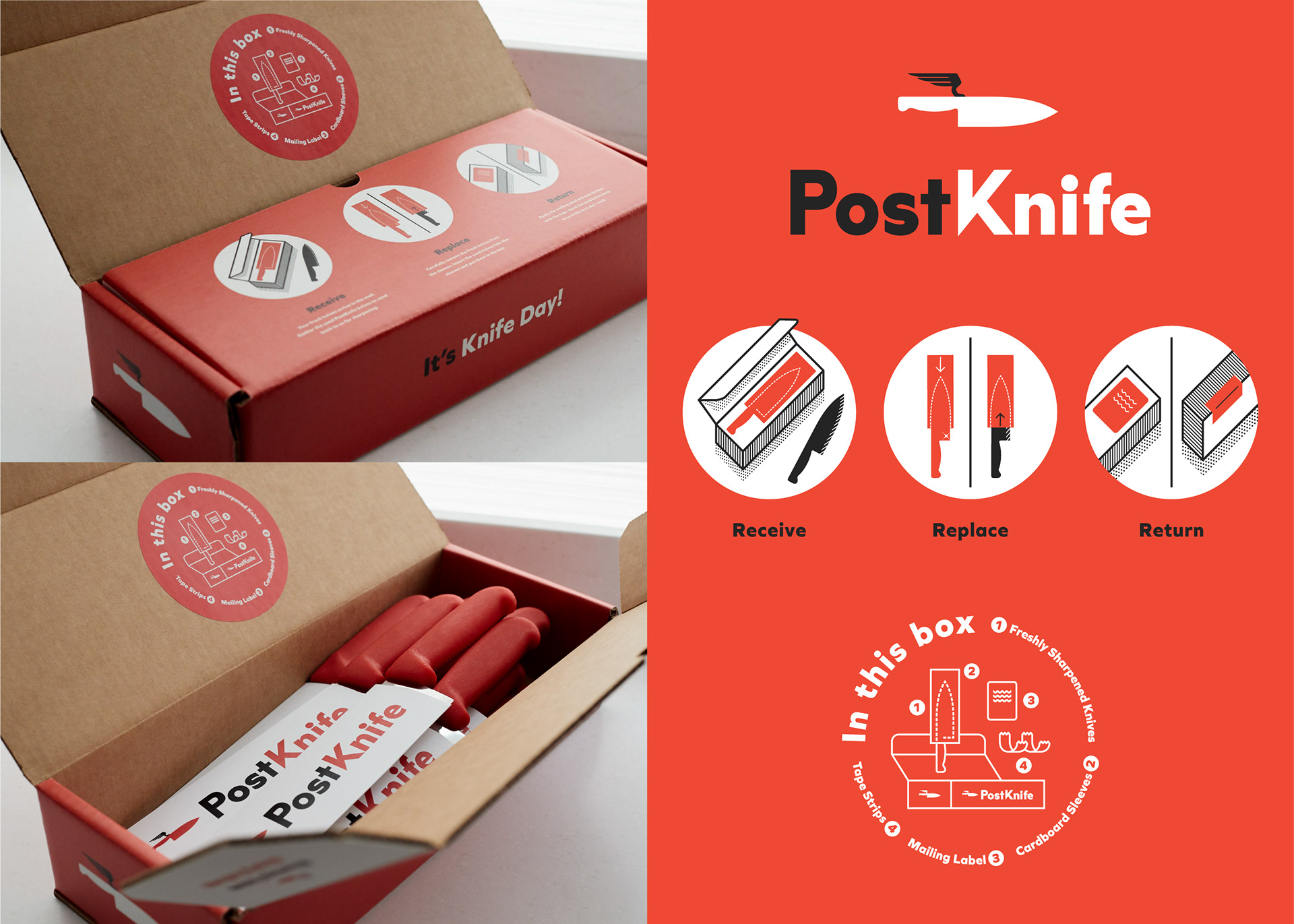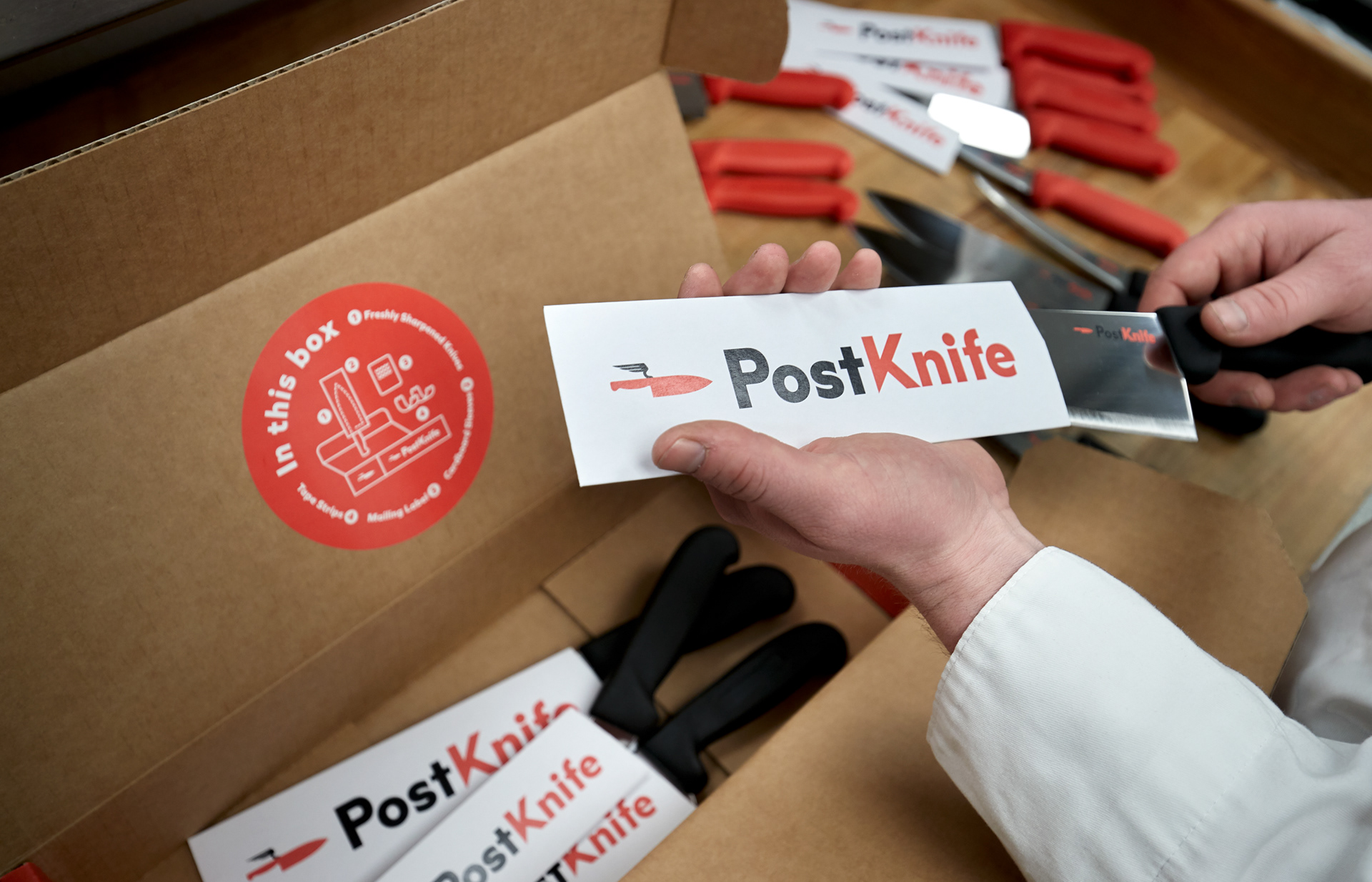 Storefront & Management Tool

A brochure and storefront in one,
postknife.com
makes it easy to set up a knife subscription. A long home page walks visitors through the service and reasons to purchase. A kitchen manager can browse knife sets, purchase the right package for them and manage their account though a desktop or mobile device.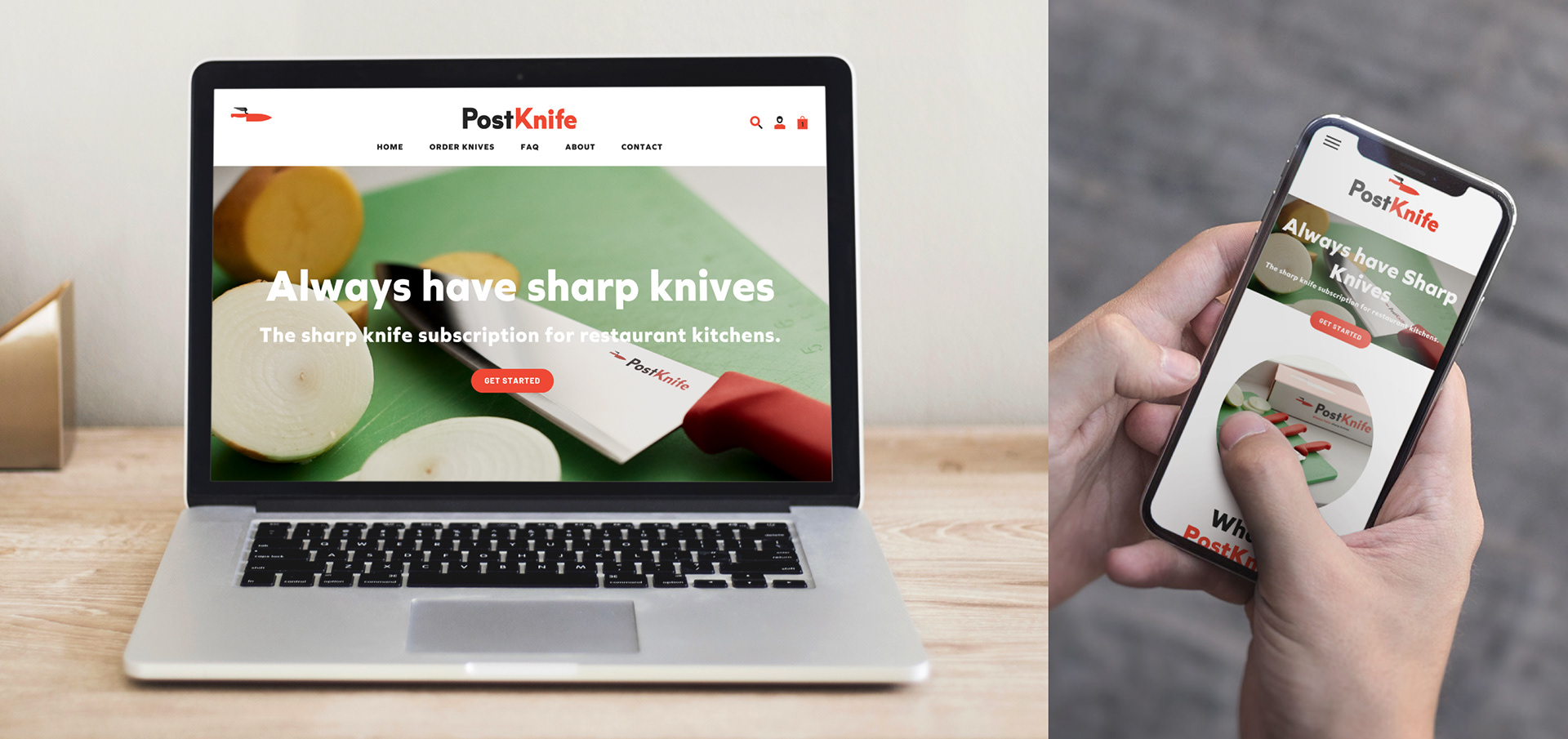 Product Imagery

The intersections between audience and brand are documented in a photo and video library. The customer experience is shown through individual knife sets, delivery experience, the context of a working kitchen and customer testimonials. Shot by 
Jonathan Chapman Photography
.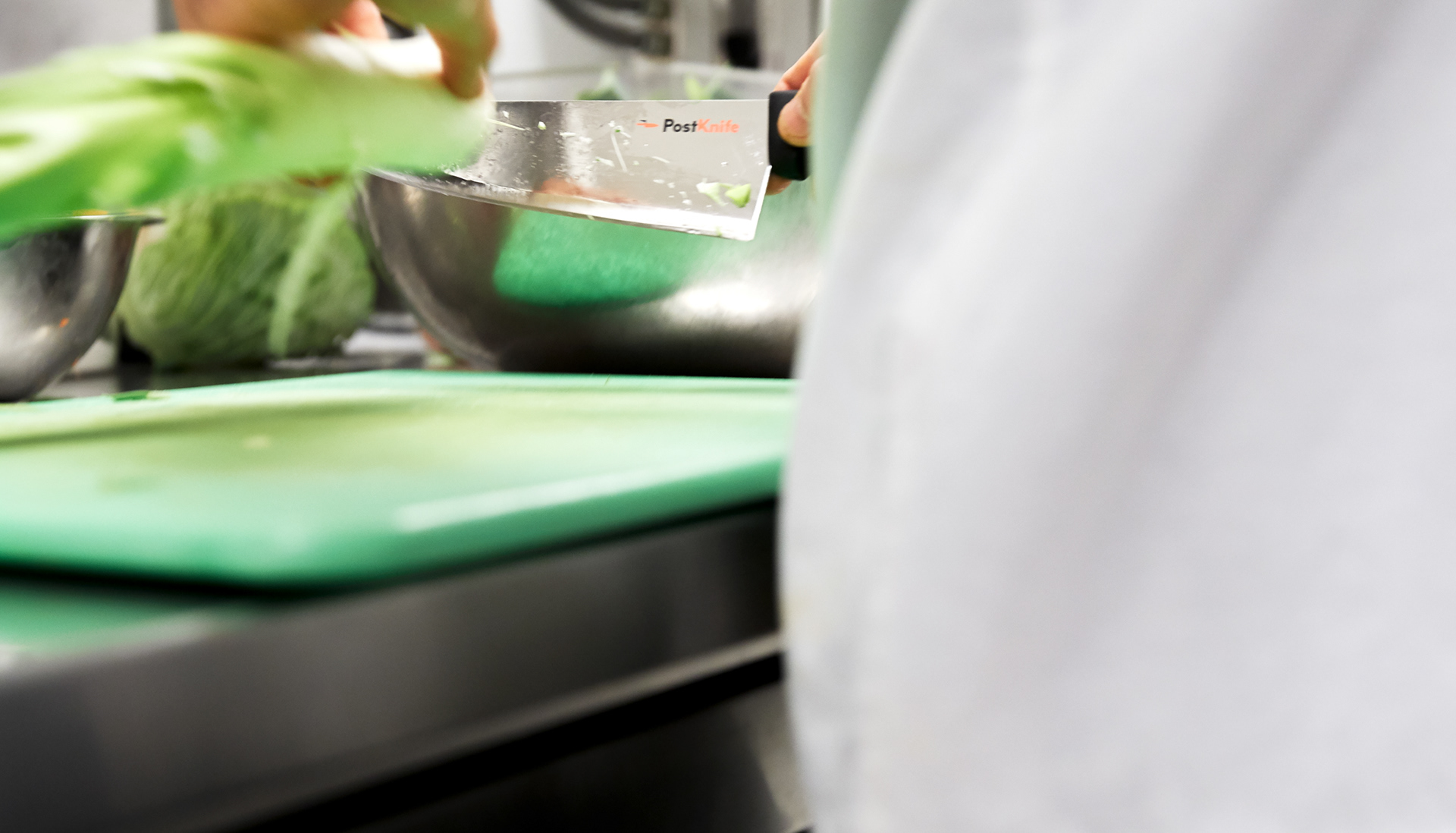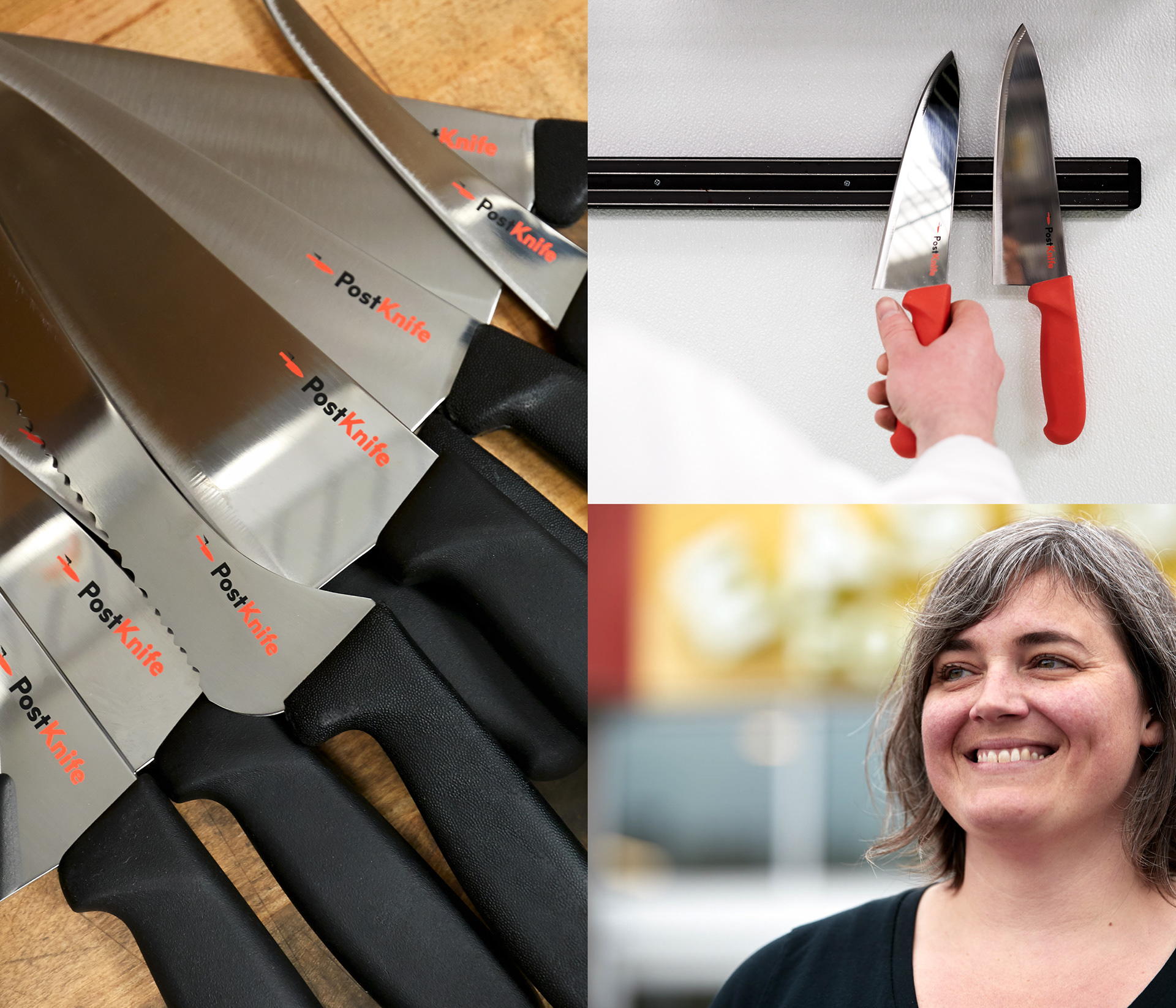 Summary
Any brand wants an identity that people talk about, but when the branding leads that conversation directly to its winning points, it's a home run. This boldly simple, well-made system is designed to suggest and support the first thing anyone should know: that PostKnife makes it easy to have freshly sharpened knives.